Struggling to find that perfect present for your loved ones with a love of travel?
Look no further than our one-stop shopping guide suitable for every travel lover!
We understand that these gifts need to be accessible to purchase no matter where you are reading from around the world.. so these recommendations are ALL suitable to purchase online no matter how small your budget!
In no particular order…
Number One
(something from our personal Christmas list of 2017)
From the New York Times Bestseller – 'How to Travel the World on $50 a Day: Third Edition: Travel Cheaper, Longer, Smarter' by Matt Kepnes.
Nomadicmatt.com is a fav travel blog of ours and it certainly influenced us to start our own so being able to keep a handy copy of all of his tips and tricks is a fantastic gift for anyone that wants to travel cheaper, longer or smarter!
You can purchase this fab book on Amazon here either on Kindle, Paperback or Audio CD starting at £7.54 / $10.06 / AU$13.19
Number Two
Another thing we're totally craving… Mandala World Map by Em Carey (the girl who fell from the sky)
Not only does this girl KILL IT at art, she has the most beautiful and inspiring backstory to go with her beautiful work. She too has her own website at emcarey.com, and you can purchase this gorgeous map or some of her other mandala artwork right here. The above map comes in A4, A3, and A1 sizes starting at £17.11 / $22.88 / AU$30.00
Number Three
See the world on paper with a subscription to National Geographic.
Discover new places and things to do, things to see that you never knew you needed to add to your bucket list with a subscription to Nat Geo. Photography, amazing stories, travel and sociological issues all in one place? YES PLEASE. And and and.. you don't even need a fixed address for this one anymore! (choose digital edition at the checkout) Give the gift of education, knowledge and endless wanderlust this holiday season. Starting at £14.99 / $12.00 / AU$24.99 for digital copies.
Number Four
The perfect solution to travel photography without having to take your camera out everywhere you go. The 4 in 1 lens set from Olloclip.
This is a personal one we can vouch for because Lissy owns one and has been traveling around with the thing since 2016.
There's not always time to whip out your DSLR, get the lens on and sort your settings before that perfect picture escapes you so here's the solution by Olloclip. Lissy keeps hers on her phone pretty much 24/7 and with fisheye, wide angle and macro x10 AND x15, its the perfect accessory to give you beautiful travel pictures straight from your iPhone.
Fisheye is the obvious favorite here but you'd never believe this is photography from the humble iPhone with the Olloclip!
Prices of the Olloclip differ depending on your type of iPhone but the one that we have is the 4-in-1 lens set for iPhone 6 /6S/ 6/6S Plus for £69.99 / $79.99 / AU$104.00. The Olloclip is also available to purchase on Amazon.
Number Five
How to display all the countries you've visited in a fashionable home decore manner? A Scratch-off world map of course!? There are looooooads out there to choose from all in a range of colors and designs for every different budget – so here are two of our favorites.
'It's a Beautiful World'
Pretty watercolors, gold, and calligraphy, what more could you want? This one is by Jetsetter Maps and is currently on sale on their website from $29.99 down to $25.49! Snatch that while you can! (you can purchase this from Amazon however it's not on offer so make sure you shop direct before this offer ends)
Jetsetter Maps have other scratch-off travel maps too, including one for the USA and Europe individually – you could make a whole feature wall out of these bad boys!
'Premium Geography World Travel Map'
For the serious traveler, this one is definitely for you. With some crazy amazing detail including many small islands, cities and even places of interest, if you're a savvy, swag traveler this is your must-have travel detailer from 1DEA design gifts.
Because we love you and want you to save all your money for traveling, we've found that this too is on offer at the moment from $38.99 down to $34.99! Remeber to go to direct to grab this saving and check out the other maps from 1DEA as they've got so many choices to choose from, but the above is also available from Amazon.
Number Six
Okay so you NEED luggage tags –  so why not make them your own with these super cute personalized luggage tags! (available in a range of colors too!)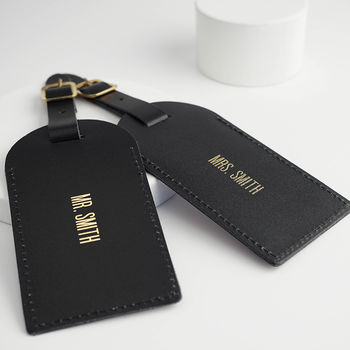 From one of my (Lissy) moms favorite shops – Not on the High Street – you can actually find tons and tons of cool personalized stuff, not all just travel related.
These tags are available in seven different colors and with international shipping, these are a sentimental budget gift any seasoned traveler will love.  Made by 'Wue. purveyor of lovely goods' they are only available to purchase through Not on the High Street. To get yours, find them here! Prices start at £35 / $46 / AU$61 for two tags.
Number Seven
Oh yes, it's another entry from Not on the High Street. This time… travel journals!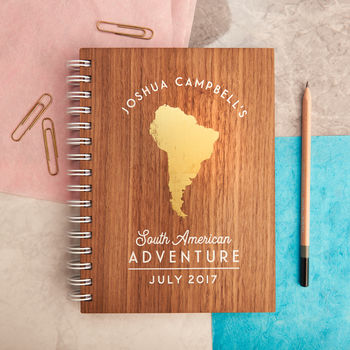 Personalise your adventure with your name and travel location on the cover of this lovely vintage looking travel journal. No need to worry about forgetting the details of those special memories while you're away – jot them down in an instant to make your memories permanent for years to come. How beautiful would it be to collect a load of these books for all the places you visit to look back on in years to come? I reckon I've sold this one to myself here, where's my bank card at?
Prices start at £21.60 / $28.80 / AU$37.85 for a limited time because once again we've pulled it out of the bag for you guys on that tight ass budget and there's 20% off! Want one? Get one!
Number Eight
Now this one is more of a gift for a loved one or someone you've recently traveled with but if you fall into this category and don't mind getting a little messy with some PVA, this one is definitely for you!
DIY photo travel scrapbook as a keep safe for all of your beautiful travel photographs together! Like we said, this one takes a little bit more effort than the rest as you'll have to go off and print your pictures and then stick 'em in yourself, however massive brownie points here that you'll get from the person you're gifting this too as it's definitely something that takes thought and a lotta love. Find this one on Amazon for £14.99 / $19.99 / AU$26.28 from GnD.
Number Nine 
This one caught my interest after watching Dragons Den early this year – Microfiber towels from Dock & Bay.
A towel that is super lightweight, doesn't smell bad after use, compact, doesn't stick to sand and yet drys quicker than a regular cotton towel? Sounds like a dream right?
Well no, this little invention from two guys who got drunk and came up with this amazing idea (relatable) are totally real. These towels can fold up so small that they will even fit in your hand luggage so if you get a lil chilly on the plane you can whip one right out and use it as a blanket! The two guys behind this gift from the gods are a great read and if you sign up to their email subscriptions, you'll get 10% off too. Check them out and read their story. Oh, and buy their towels too obv. Prices start at £12.00 / $15.99 / AU$21.02 for a small, classic collection towel.
Number Ten
Last but certainly not least, never lose your belongs again with Tile Mate.
Early this year Fab told me a story about when she was in Malaga (I think, sorry Fab) with her friend Jess for a week in the summer. Just as they were about to leave for the airport, Jess realized she couldn't find her passport and of course, mass panic started. Stories like this put the fear of God inside of me as I'm literally lastminute.com in the body of a female. Ten minutes until we leave for the airport? Okay, I'll start packing then – kinda person. The only reason something like this has never happened to me is that I have a good memory and 9 times out of 10, I know exactly where things are located. However, one day I will not be so lucky, which is why I'll be investing in Tile Mate this year. Basically, you attached these little beauts to your stuff and you can 'call' them (make them play a rather annoying but loud and totally useful song) and track their location.
NEVER LOSE ANYTHING AGAIN. A 4 pack starts at £55.00 / $59.99 / AU$96.32 (on offer this week guys!!) if you purchase directly from Tile. You can also get super stylish and modern looking ones if you're open to spending a bit more. Like most of the items on this list, Tile Mate is too available to purchase here on Amazon.